I'm not sure about you, but I LOVE the Olympics!
They are a super exciting time for so many reasons. Not only does it revive the 'dreams can come true' factor but it also showcases that there is hard work and sacrifice for something you love.
It's also amazing to see athletes and family members come together, bond and celebrate with one another.
But as I watched Ksenia Stolbova and Fedor Klimov kill the qualifying for the finals in the team figure skating competition yesterday, it really made me think of when I started my business and career.
1. Don't Model Your Role Models: Everyone says, 'just model your role models', and a bunch of other crap! And to be honest, watching them dance, it made me realize, the reason why they are freaking amazing and why they are killing it at dancing is because they practiced a ton, they spent days, hours, really perfecting their craft. We evolve and we grow from different experiences; there is no one-step formula fits all! Everyone finds it differently, but it's the commitment to searching and mastering your craft which is more important.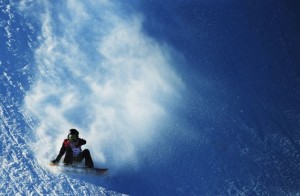 2. Self Sabotage or Pure Accident? During the games, some of the athletes totally rock it, while some fall and don't even make it past the qualifying round. And as a psychologist, I went back to sports psychology and realized that the amount of pressure that these athletes must face is huge, and all the insecurities that we have on a daily basis comes out.
So when someone falls, is their subconscious thinking the regular "I can't do this", "I don't deserve to be here", "I am not worth it", or is it faith just saying that there is something more to learn by embracing failure or not making it this time!
3. Is Gold Everything? Olympics are a great time to reflect on goal and goal setting, but I often wondered why interviewers never talked to people who had failed? Everyone who competes is going for gold, but how come some people don't make it? Were there conditions that set them up to fail, did they not all make sacrifices and work damn hard?
But life is like that; not everyone gets the gold, and to be honest as my friend Reem once shared, "The journey is often better than the destination", so just like I failed to reach the final summit of Kilimanjaro, I still gained so many valuable lessons from the experience. This is a true respect to every single Olympian, even if they don't get the Gold, they made it to one of the most competitive arenas in the world and helped inspire others to follow their purpose.
4. Without dreams, life is meaningless! Olympics is all about dreaming, whether you are an athlete or not, for me watching all those athletes gives me a tingle. Even more so when some of them cry, because they reach that moment they've spent their whole life training for, and for that dream to come true is truly inspiring. It's the decision they take to be awesome or average.
To discover and master the art of living your purpose is crucial, because without it, life becomes meaningless. Sign Up to our community and get free access to our training coming out in three weeks.
I would love to hear about your purpose; what are your dreams and how do you make your life meaningful?