The past two weeks had been full of sunshine and beautiful weather here in Vancouver. Nazly and Reem came to visit from Seattle and we couldn't believe what we were seeing! People that didn't know us, may have taken us to be crazy and insane as we started dancing, laughing, playing and screaming in the sudden snow fall! We weren't crazy, we just enjoy anything and everything with the zeal and Passion of living life.
Growing up in Egypt, snow is not something I am familiar with. It was only a dream to have the opportunity to build a snow man as I had seen in movies. One evening, as I was leaving the library, I had the desire to fulfill a Passion and build a snowman! I didn't have any plans for the upcoming weekend and the snow had fell already, the weather was expected to be dry and sunny.
So I called my lovely friend from the Mediterranean, Betul, to meet with me for a day of playing in the snow! The beautiful snow consisted of lovely, soft flakes that made huge, wonderful snowballs! Betul and I had a snowball fight, we made snow angels and just played and rolled through the snow. This was a totally new and exciting thing for us both, since neither of us had been around snow.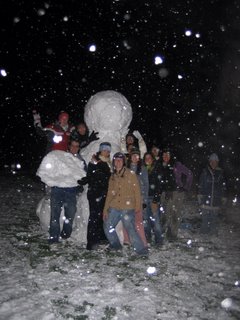 Someone suggested that we make a snowman, and so together, we all started working at it, then before we knew it, there was a this humungous snowman. I had never made one before, of course, and it was one of the most amazing, beautiful things I have ever taken part of doing.
After a day of playing in the snow, having my very first snowball fight and building my very first snowman, I went home. Amrita, Chevy and Francesca were there and preparing to go sledding in the snow! This was definitely going to be a day in my life that I will never forget!
So away we went, carrying garbage bags and headed to Burnaby Mountain. There we sled down the hill, climbed back up only to slide down again. The weather, the setting and all about me was so beautiful. I was having so much fun and the time flew by quickly.
After hours of sledding, we made our way back to my home and changed into warm clothes. Then to end a perfect day with even more perfection, we sat had a wonderful dinner, nice big cups of hot chocolate and watched dodgeball at 3am. The day, the evening were absolute incredible and so many things to mark off my Bucket List!