Although I am quite environmentally conscious, there are some things that your mind wants that doesn't make any rational sense. When I was 12 or 13 I saw the BBC coverage of
Tomatina,
the largest tomato throwing festival in the world. I knew this was something that I had to do on my
bucket list.
There are 40,000 people that gather for this insane food fight where 100,000 kg of tomatoes gets thrown.
All my friends knew that since I was moving to Spain for my Masters this would one of the must go festivals I would be at. I even encouraged 3 of my best of friends to fly down to visit just so we could experience it together.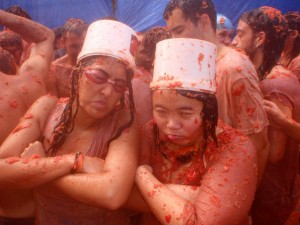 We stayed at a friends house in a small town 45 minutes from Bunol where all the madness would happen. Your instructed to come with clothes that you don't dream of using again and even to wear googles because apparently tomato sauce is quite acidic, and I can vouch for that.
We left home at 7am and when we got there, it seemed like it was smack in the afternoon, people were out and loud and the excitement was AMAZING. I can still feel like we were just there. Our friend was a local so he took us to an awesome spot close to where the trucks leave from, and there began the biggest water fight I have been involved in. Even though we didn't have the water guns, that I had was a kid, everyone is involved, whether its a bucket, a bottle or a cup or a cap.
Everyone was chanting songs, and even you didn't know the words, you learnt them. What makes it 10 times cooler is experiencing something from
bucket list
with your best friends with you. Massive Love to Care, Rostom and Noozi 🙂