Life can change so incredibly quick, when you least expect it.
In 2006, something surprising happened to me. A tick, a very small insect, bit me. And, I contracted a bacterial infection that made me incredibly sick: so sick that I wasn't able to leave my house for the initial 7-months. It happened during the first year of my Ph.D., and not one doctor could figure out why I was so sick.
Since graduate school was my only source of income, I returned to my studies despite not functioning very well. All of my energy went into school – I stopped seeing my friends and family. I only had enough energy to go to work, and that was it.
It took 5-years to get a diagnosis for my illness, and over 2-years of treatment to reach a point where I don't feel as sick as I used to. I definitely have healing still to do. During that 7-year roller coaster experience, I lost the ability to work, and my life completely shrunk. Miraculously, I did finish my Ph.D. (I'm quite proud of that success), but I wasn't able to move on to an academic position.
A year ago, at the point when I started to feel better from treatment, I knew that I needed to return to work. But, what work would I return to? I wasn't well enough to work full-time. I was completely worried and confused about what I should do next.
It was at that point that I heard about the possibility of starting an online business based upon my experience and knowledge. I discovered that I could share my expertise with others and create a business around that.
Nothing shocked me more. I had no idea that I could create an online business. It was as if a light was shone on me, and it was showing me a way out of the predicament I was in.
But it did mean that I would have to share my story with the world. I would have to reveal all of my hardships. And, to be completely honest, that scared me. Who would want to hear my story? What if people judged me because I have a chronic illness?
I knew that I wanted to push forward and start a website and business, but fear quickly set in.
How fear affected me:
I found myself procrastinating. I would make excuses that would stop me from starting my website.
I started to think about all the people who would criticize my experience.
I started to imagine that I would fail at my online business when, in fact, I hadn't even started it, yet.
I started to convince myself that I wasn't talented enough to create a business based on my knowledge and expertise.
I didn't like how fear was making me feel. And, I hated that fear was holding me back from starting something that I was truly excited about. I have something important to say to women who are experiencing chronic illness. I have learned so much knowledge on how to reclaim health that I have to share it with the world – I can't withhold this information just because I'm fearful.
Three things I did to combat fear:
I confided in a friend that I wanted to start a business, and I asked her to help me stay on track. She helped me to stay accountable for getting things done like creating my website, and reaching out to other bloggers. Knowing that someone was on my side, supporting me, helped to reduce the amount of fear I had.
I started out small. I wrote about some of my experience to see what would happen. And, the result was amazing. People were really kind, and I was fearful for no reason. Here's the big lesson: doing something that you're fearful of can be a wonderful experience in the end.
I know that I can't live my life without feeling fear. But, I have discovered that the things that I'm fearful of are the things that I should actually do. Starting my business was very scary, but it has been one of the most rewarding things in my life. I've ultimately learned that I have to redefine fear and make it my friend rather than my enemy.
I have a long list of wonderful things that have happened since embracing my fear and moving forward to create my business. I am now about to launch my first one-on-one coaching program to teach women how to quit sugar. I have a growing list of subscribers, and a blossoming online community. Fear is slowly becoming my friend, and she should become yours as well.
————————–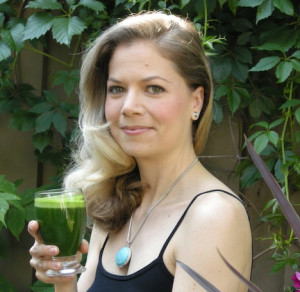 Alison Smith's Bio:
Alison Smith is a sugar-free & gluten-free coach on a mission to promote self-care and self-love to those battling back to abundant health and happiness. Schooled by her own journey back to vibrant health, following a 7-year battle with Lyme Disease, Alison is the creator of alisonsmith.com and the FREE e-book, Recharge Your Body: 52 Smoothie & Juice Recipes. Alison lives and breathes by the motto: Live healthy. Live happy. Live now.
Website: AlisonSmith.com
Twitter: @AlisonSmithTV
Google+: Google Plus
Facebook: Facebook