As you probably know, 92% of users don't scroll past the first page of search results, and therefore can you imagine the implications that your business would have if displayed on the first page. Better yet: The TOP of the first page. #1 is the best spot if you want the best chance at driving serious traffic to your site. [Now if you are struggling to understand the terms, here is our digital marketing cheat sheet]
Keywords are the most crucial component of your website as it indicate to Google and other search engines to direct traffic to your website and as you already know:

So can competitors help you get there!
Well if your competitors are on the first page you need to know what your competitors are up too, because they are benefiting from online traffic and increase in bottom line because of it.
So for example, if you are a sales trainer in Singapore, not being on the first page means your missing out on organic traffic, more prospects and affecting your bottom line.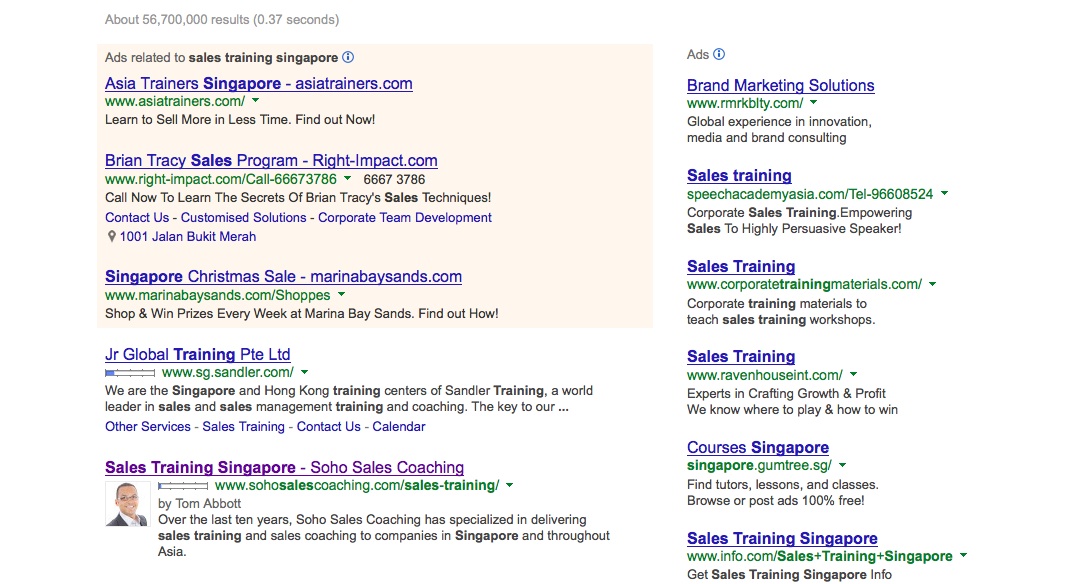 Top 3 Reasons why do keyword competitive analysis:
If you don't know what it is, keyword competition is the crucial component to your strategy of getting a keyword to ranked at the top of search results.
1. Identify the ease / difficulty of RANKING HIGH
Competition is crucial when it comes to keyword competition. Popular keywords are frequently searched by thousands of users, if your keyword competition is low; it indicates that the traffic searching for that keyword is low too and you might want to focus your strategy on different keywords.
2. Get keyword ideas of what works
If your competitors drive a lot of traffic to their sites every month, that means they probably have some keywords you don't have, and that you can add to your keyword strategy to get better results.
They say you should keep your friends close, and your competition closer, so use every opportunity to learn what they are doing to help you improve your own strategy.
A great example of leveraging on competition, online e-commerce for retail is a very competitive space and of course, more traffic, means more prospects, means more money. Zalora.sg is one of the biggest Asian retailers, and other competitors are riding on its wave.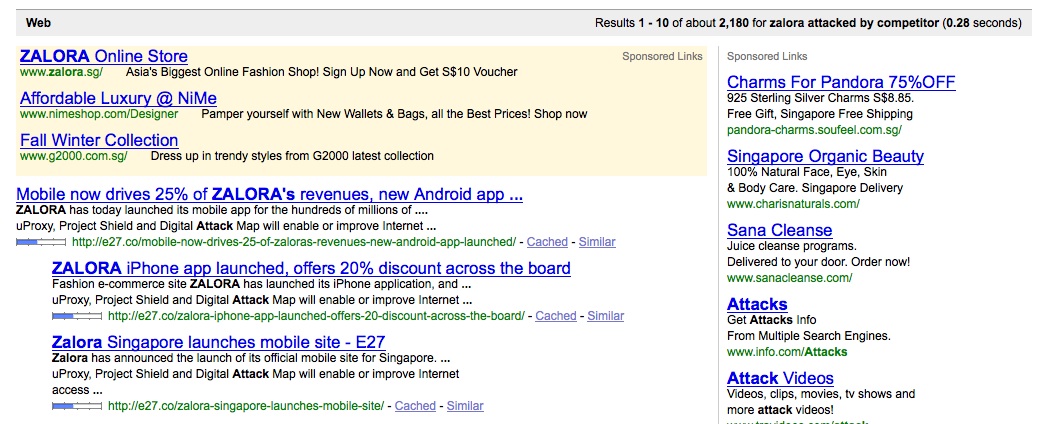 3. Discover why competitors' sites RANK HIGHER
When you type your top keywords into Google to see who shows up, you will find out who your competitors are, and how well you rank against them.
It's harder when you want to find competitors based on multiple keywords and more time-consuming and if you don't want to purchase professional and premium SEO tools, how do you find out this kind of information? That's where your going to love these keyword research tools!
Tools to Spy on Your Competitors
Here are the best tools to get you started in finding a variety of keywords being used by your competitors. These tools will give you insight to see what keywords bring them traffic and understand where you can take your SEO campaign.
Once you have established who your competitors are, you can easily "steal" their keywords to improve your own rankings. The source code of a competitor in the same niche can be a great tool for identifying their keywords and also any synonyms or common misspellings they have included.
1. Tapping on the Source Code
Step 1: Go to your competitor's site in your browser. For example, I use the website of one of my mentors www.shetakesontheworld.com
Step 2: Right-click on View Page Source. (on Firefox – Tools – Web Developer – Page Source) and (on Internet Explorer – View – Source – This will open a text window)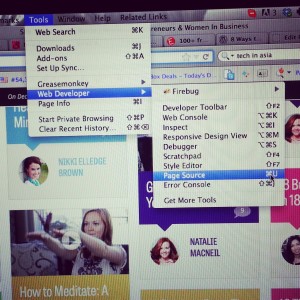 Step 3: The site's HTML source code will appear. Look at the various tags (title, meta, keywords) to find the keywords your competitor is using. (Search Find)

Step 4: Use the same keywords, or include some of them in your own strategy.
Why are these tags important?
Title Tag: Google weights this heavily, so be sure to include those keywords.
Description Tag: This information appears under your title tag on search engine results. While Google doesn't use it for ranking, it usually does contain many of your keywords.
Keywords Tag: You may not find this, as some webmasters don't use keywords tags. However, if you do find anything, it may be worth your while to check it out.
2. Tapping on the Keyword Analysis Powered by Google
Keyword tools such as Google Keyword Tool allow you to check for search volumes and competitive scorings of particular keywords. Once you have selected keywords you want to use, head on over to your favorite keyword tool and analyze it.
Keyword tools base competitiveness scores on a range of data points that are sometimes combined to give you a clear perspective of a keyword's usefulness.
Check out: Competitive Scores, Monthly Search Volumes
For this example, I showcase one of my clients Huntington results when I put them in google keywords. Now if we compare them to another one of their competitors, they can identify if there are areas they could improve and optimize their site.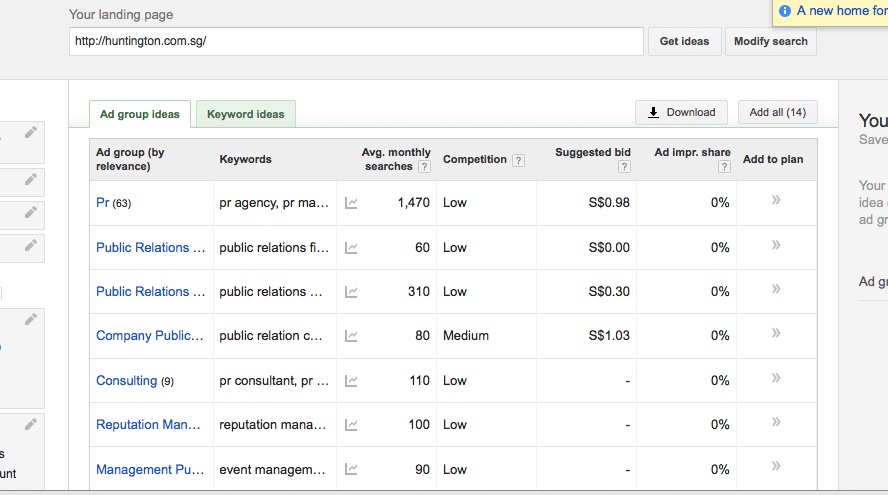 3. SEO Diagnostics & Audits
Now obviously Google keywords has its limitation and is a very manual process, that's why there are tools such as Traffic Travis that allow you to crawl competitors' sites to help you carry out in-depth diagnostics to learn how the competitors have structured their search engine optimization based on tags, keywords and other on-page elements.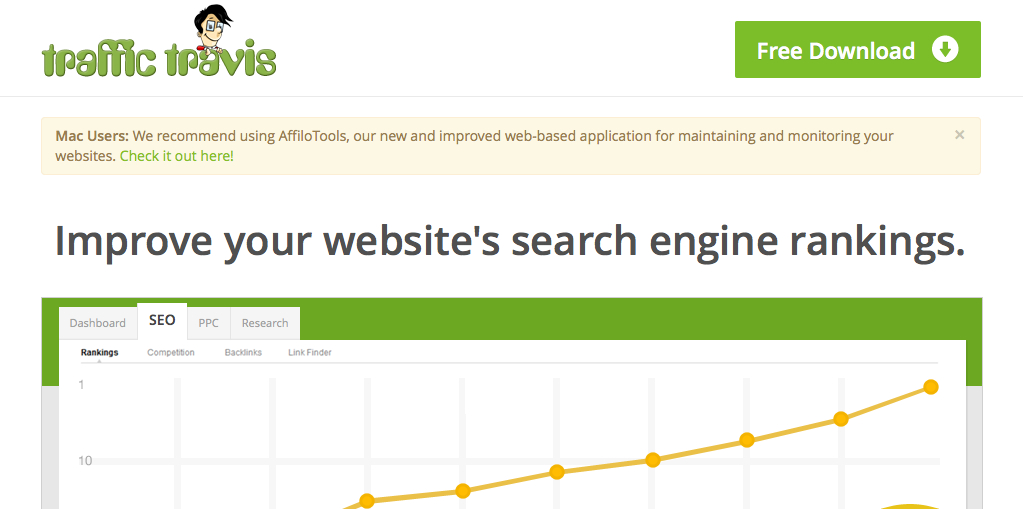 It's a free download you install onto your desktop. It suits both MAC and PC and you can use it to crawl your competitor's websites to find out their meta data such as title tags, meta description, keyword tags and other on-page elements. The main things I check for are the title tags, meta description tags, heading tags and keyword tags to see what keywords they're targeting.
4. SEO Diagnostics & Audits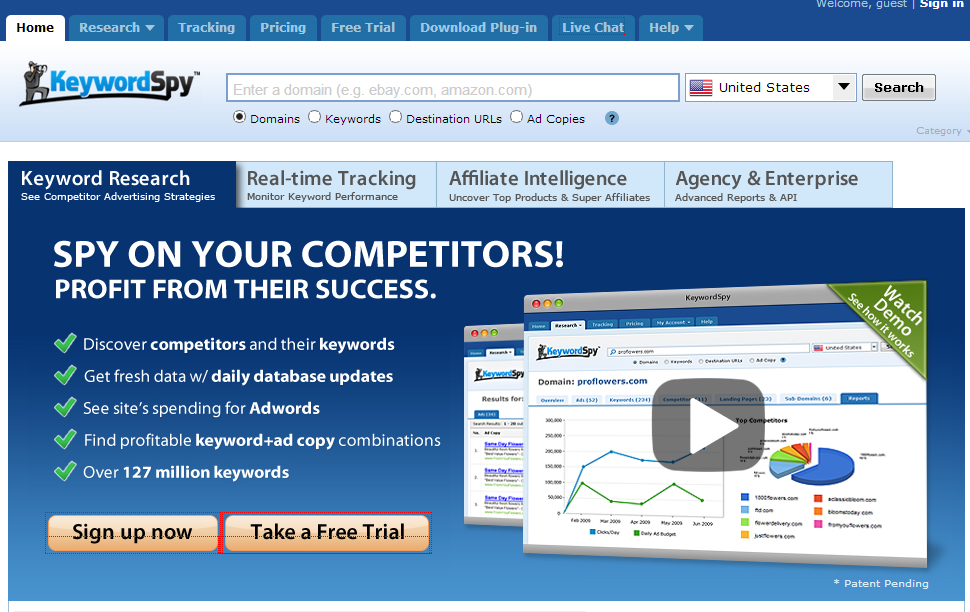 Another great tool for SEO Diagnostics & Audits KeywordSpy.com – This is a fabulous premium tool that offers your the ability to identify the keywords that your competitors are trying to rank, and also the main misspellings, and pay per click ads that your competitors are using.
The rule of thumb generally is that is people are advertising for that particular keyword or phrase, then it's a good keyword to target because there is has commercial intent.
There is a FREE trial version of Keywordspy.com if you would like to test it. But this is something for more advanced online marketeers, if you are not using paid advertising, this is something you shouldn't use.
Key Takeaways
Now that you know the basics of how you can spy on the competition, you can implement these tips on your own site and start ranking better.
Keyword Competition Research is a vital technique for helping your site to rank well. When your site ranks well, you will get more traffic that you can convert into leads and ultimately, sales.
What are your favorite tools for Keyword Competition Research?