My cycling consultant, a 60 plus man named Wayne has been giving me timelines, and today his advice was pretty simple "Just finish the stage" 🙂
I started the day, feeling excited because I showed Ashwin how to change his tires 🙂 The roads had some serious potholes; I felt like I was on an old roller coaster, because ever part of my body was vibrating. I could feel my shoulders scrunch up while trying not to fall off my bike.
The ride was enjoyable, as seeing one of the riders Dave with blue zinc on his face that made all the kids laugh and point hysterically. The kids were so cheerful and even were splashing the riders with water because it the weather was hot. Eventually like everything in life, the roads transformed and there were no more kids and houses instead there was acres of lush forest, fields and rivers.
The smooth road to Ainaro was extremely deceiving because although it looked flat was long gradual uphill. At the bottom of the 700 meter climb, one of the police told me there was only 5km to go. As we sat under a tree at the bottom of the hill, eating our powerbars, it felt like such a relief that it would be over soon.


As we began the gradual climb, it was as if I forgotten about the King of the Mountain. The signs always gives me great pain knowing that I haven't trained enough for them. But in life every battle will eventually end. After we reached the top, I felt greatly disappointed to know there was still 10 kms of the gradual climb. What disappointment?
To make matters worse, it started to rain and all I wanted to be was he clean and dry. As I crossed the finish line, the rain was still pouring and our camp site, this football field was soaked. I didn't care, I just wanted a shower, I scouted for my things and took my open shower under the rain.
It felt so good scrubbing the mud off me and very challenging drying myself and getting dressed in rain. I rushed over to the ConocoPhillips tent hoping the rain would stop so I could grab some lunch and go to the clinic to check on my blisters. I got tired and realized that the rain wouldn't stop so walked over.
While waiting for my massage, I met up with some of these older guys I had met in Balibo. I was so impressed that they were all in their 50/60's and were all so fit. One of the guys is a Rotarian and was actually in Timor two weeks earlier building a school. How do they get the energy?
I really admire them for their fitness and continuously challenging themselves.
Because I was groggy and wet, by time I decided to find a shelter, it became literally impossible because most of the dry spots were taken. But sometimes misfortune is a blessing, because the church was offered us shelter which included beds and pillows.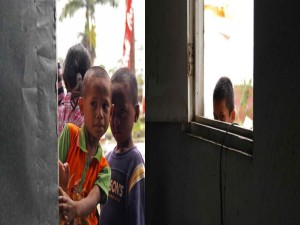 The media was also staying at the church, and had a fabulous conversations with one of them on politics, world and history getting a better understanding on the relationship between Australia and Timor.