My jersey is so disgusting, it's not drying and its filthy. I decided to wear my awesome shirt for today's ride; it reminded that battles are better fought with the love and support from family and friends. Thank you all for your encouragement, advise, supporting with financial contribution for Timor Aid and believing that I could do this crazy adventure.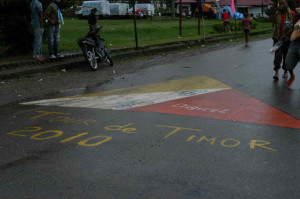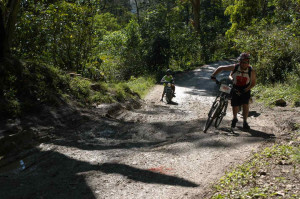 Today's track was brutal, there was a 1.9 km with a 20 km climb. The roads were super muddy and as a result of not lubricating my chains, I couldnt cycle because my chain kept getting stuck with all the mud and dirt.
I cycled as much as I could and in the end I had to push my bicycle because the chain was getting stuck too much. My Timorese national rider friend was there with me; I was impressed that my basic malay allowed us to have a great conversation about life, family, struggles and aspirations.
Around 12:30 pm one of the doctors, told us that someone was injured at the bottom of the hill and we needed to get on the truck so they could pick the injured person up. Being afraid of heights, I refused to get on the army truck which ladder was like at your head.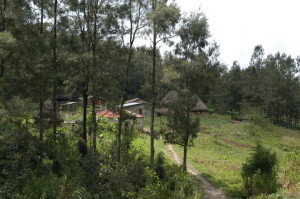 Instead my Timorese friend invited me to ride in the national support team car 🙂 The whole team in the car were so fascinated by my nose because apparently Asia's have squished noses.
I was delighted when she asked me if I was interested in stopping for noodles. Being part of the race meant it was hard to try Timorese culinary delicacies as food was catered by Australians.
Automatically my brain forgot where I was, and started to think of what the cafe/restaurant would be like. When I asked where we were going, she said the drivers house, the Arab in me was like "yayyyy I am being invited, I love seeing local peoples houses".
I forgot where I was and that for days we had passed nothing but small huts which didn't have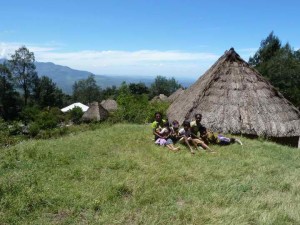 running water or electricity. We arrived at the drivers house was a one room bamboo hut with a straw roof. I immediately scouted for an area to wash my hands and noticed the drivers wife washing her plates in a middle of a puddle.
I walked over and realized that the hose was folded in half and there was a rock on it to keep the water from spreading out. My initial reaction was how clever, but as I put the hose back in place my hands were just as muddy as I started.
That's just how things are here, and that's when I realized that if these were their living conditions we weren't going to be invited for a meal, my friend was walking over to the store to buy noodles and I walked with her. All the villagers was surprised that this "Malaya" (foreigner) was in their village, kids were following me and pointing 🙂 I felt like I was taken back in time, and didn't process what was really going on.
I spent the rest of the ride counting my blessings, and realizing how lucky I am with my opportunities and education. It was a very emotional ride and I felt a heavy obligation to want to make a difference. To make matters more emotional, we then went and met a mans who's father was part of the secret committee that was massacred in Alieu.
I felt really emotional to think of the horrible history that this young country has faced but at the same time impressed to where it was going.