This week I got to interview Carolyn who runs the Huang Yao Foundation. Starting from banking, to motherhood, to establishing a foundation to continue her grandfather's legacy, to gardening; Carolyn shares how she tries to live in the moment and how she is more aware of the stages of life and career – transitions. Today, we delve in deeper to find out what Carolyn has done to help her during some of the difficult times she faced.
Carolyn believes that transition never happens by chance, there is always an overlap of interests that may not seem clear at first, but will become evident later on. This usually stems from our multiple interests and relationships.
School Days
Carolyn's fascination with painting began as she grew up watching her grandfather paint. Her grandparents were immigrants from China who settled between Malaysia and Singapore in the 1950s, and her grandfather spent hours on end painting and doing research and constantly learning.
Money Relationship
Carolyn's relationship with money started quite young, because her parents were rather disorganized when it came to money, this left Carolyn and her brother constantly uneasy. They both knew that financial literacy is a skill they both needed.
"I remember when we both went aboard, we constantly felt worried about where will the school fees come from, we worked our way through college and sometimes there was the occasional envy over the kids whose parents would fly over a few times a year, buy them an apartment and give them everything they wanted."

But now she says the fact that everything was not that easy is a huge contributing factor to her success.
Banking
It was no surprise that both Carolyn and her brother went into banking. "Because money was a necessity, I wanted to learn how to keep money, how to make it and how to grow it", she said.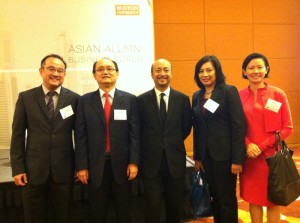 They reaped the rewards, and she was so focused on it that, by the time she was 28, she felt she had everything she ever wanted. "I had my dog, a helper and shophouse in Singapore". After a 14 year international career working across Asia in banking and fund management, Carolyn had financial security.
The year her grandmother passed away, Carolyn was already living in Singapore, after being away for 10 years in Boston, Tokyo and Hong Kong. Working together with her mother, they went to her grandparent's home in Kuala Lumpur. They were curious about what happened to all the art that her grandfather had done and found over 40 years of her grandfather's life works. At the time, Carolyn was still working in finance and alongside with her mother, started a two-year journey of just organizing his works, not knowing if much would come from it.
She reached out to Singapore Art Museum director, Mr. Kwok, who came to Malaysia with two other curators to view Carolyn's grandfather's pieces. The National Heritage Board of Singapore ended up shipping the works to Singapore and helped fumigate and store the works as well as organize a retrospective exhibition.
Family Life
In 2003, when Carolyn was 33, things changed. She got married and decided to take time off from her career to raise the kids, her husband was also transferred to Taipei and so began an adventure that involved a lot of change. This was the hardest transition so far. Although Carolyn loves her children, she describes parenting as "… It's like sailing a ship for the first time deep in the ocean, at midnight." Motherhood didn't come naturally for her as the transition happened without much understanding of what happens when a new baby arrives. In a short space of time she had to crush her old identity of having the responsibility for billions of dollars, staff and doing well financially – to having no income, no sleep, no idea what she was doing – and wiping poop and pee and cleaning up spit.
Opportunity Knocks – Transition in Progress
After two and a half years in Taiwan and 2 boys, Carolyn moved to South Africa with her husband and family where she was further away from her family support structure, raising her kids in a foreign environment. During this time she got time to think about the foundation and thinking about what she could do with it.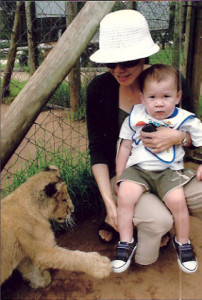 It was also here, in this foreign land of perfect growing weather, that Carolyn learned more about vegetable gardening. Johannesburg gave her the space to play around in the soil with her kids and grow vegetables. Carolyn got to thinking a lot about both her grandmothers who loved gardening as well, and watching things grow for a self sufficient lifestyle gave her life a new meaning. She found an activity that gave her tremendous pleasure.
Overall Carolyn says – kids or no kids – you should think about transition, as it always happens. Nothing stays the same. You also have to prepare for hardships, because they will be there to challenge you and help you grow. You need to be mindful enough to face transition with your eyes wide open.
Carolyn's Transition Foundations
While in South Africa, several top museums around the world started contacting her to acquire some of her grandfather's works. Although she understood her grandfather's later life, she did not understand the earlier part of his life in China. She had sent researchers into Chinese libraries and archives to find information and what they found was that he was very influential in the 1930s through his cartoon character, Niubizi. hey managed to find 15 of the 40 known books he had published in the 1930s and during the war.
She could also then piece together the information that her grandfather keen on animating his cartoon character but because of the war had to abandon that dream.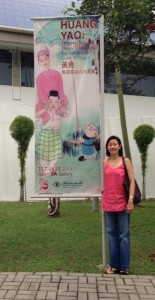 It was an incredible adventure, seeing her grandfather's work unfold in front of their eyes, and to see how much of an impact her grandfathers work had on the people of China. They found folk art or wood block prints in the form of propaganda art, that had a print run of over half a million prints when material such as paper was scarce during the war. Wherever Carolyn went, she started to discover more of her grandfather's work. She was shocked when a professor from Harvard was aware of her grandfather's work and its impact on Chinese history.
But for Carolyn, it was like seeing another life her grandparents had before she knew them and tried to make sense of the many transitions they had to make because of the turbulent period of history that they lived in and why they settled in a peaceful country like Malaysia.
The Foundation now has several projects of exhibiting globally, donating to world class museums as well as looking at ways to fulfill her grandfather's dream of animating his cartoon character.
Now that the Foundation is operating with staff, she is looking at her next transition, which also involves where her family and children will be 8 to 10 years from now as the children grow up and enter their teens. She thinks her next adventure will involve her ongoing passion, which is gardening.
Carolyn wanted to explore whether farming would be the right transition for her. She used sites like www.helpx.net and volunteered on different types of farms in Canada and the US to experience what that type of life would be like.
Gardening – The Next Stop in Carolyn's Ongoing Transition
When Carolyn is working on a farm, with the sunshine on her back and the smells and textures of the soil and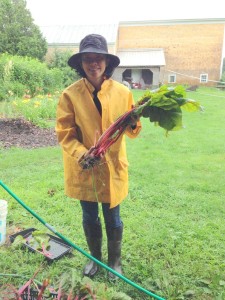 plants surrounding her, she's at her happiest. At first, she toyed with the idea of owning a farm in Canada as her husband is Canadian and her kids are likely to go to university in North America. But the more she experienced being on a farm, she realized that she actually just wanted to have a small place and help out her neighbors or people in the community with their farming. The fun part of playing with dirt, weeding and harvesting and not the hard part of planning and maintaining a farm.
Sometimes we are unconscious of what's happening, but life is going the way it should!
Overall, it's important to be aware of what makes you happy and what success means to you.
Carolyn says that she learnt that for unless you live in the moment and understand that it's just a moment, if it's a happy or even a painful moment it will pass. Transitions happen even in the smallest of moments.
How you should approach a transition in your career: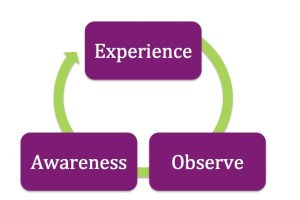 EXPERIENCE -First try out a wide range of experiences. Try to see how you could turn a hobby into a business.
OBSERVE- Identify what your ideal or not ideal and then decide your preferred outcome, and also what you would do if after a certain time, you have not realized those idealized goals.
AWARENESS- The only way to do this, is do your research – you may find extraordinary opportunities for growth and expansion.
We all experience transition from time to time. I'd love to hear: What transitions you've gone through? What lessons have you learned from it? Were you afraid and how did you overcome that fear?