This week I interviewed a good friend of mine; she was one of the first people I met when I moved back. I just know you'll be fascinated by MK's story of how she went from Army Officer to running her own financial advisory business. We dig into her psychological barriers and how she went from no customers to filling in her pipeline. We'll also find out how she experienced her major career transition and finding her first customers
MK's Early Beginnings
The only world MK knew was in the army, the language, the ranks and more. She worked hard at her career and achieved well.
But, MK had a series of domino-effect life awakenings back-to-back that made her reconsider her career-path and made her realise a career transition was needed. Although she
enjoyed the army and loved her time there, things changed when she met with a friend who was a financial advisor. MK never thought seriously about money and retirement before, and she assumed that the army pension plan would be enough for her future.
She was shocked to realised what she would be experiencing after the complusory retirement at age 45 and that her savings would not be nearly enough to sustain her lifestyle. At that time, she felt pissed thinking about this 'golden handshake' after her years of hard work. She also thought about her mortgage repayments and knew that with the current amount, she would struggle to pay that back too.
One week, MK met a good friend for tea, not realising that out of the blue, three days later, her healthy, athletic friend would drop dead. Although she had seen several deaths, this one was more dramatic. X was younger than MK. She gotten a message 'I don't want to regret anymore!'.  A lot of things happened and MK realised that she wanted more out of life; she wanted to do things but couldn't because of current work routine. She didn't want to regret anything and worried what would happen if she died tomorrow.
A lot of things happened and MK realised that she wanted more out of life; she wanted to do things but couldn't because of work. She didn't want to regret anything and worried what would happen if she died tomorrow.
After a lot of soul searching, she realized the thing that one thing she had always wanted to do, was to be her own boss. It became more apparent that it was not so much about just the work, but also about having a loving environment around her and really being happy every day, every moment.
For MK, the idea of being a boss was so powerful because she kept on thinking, that in her own business, she would be writing her own cheque. She would need to build her own system, and provide jobs. She describes it, saying "You don't have to make the same dish as everyone else, but as long as it tastes nice, people will like it and I will like it. That's all I need."
Becoming Rich
For MK being rich means you can create jobs for people; you have passive income streams and you can travel and live comfortably.
It sounded like a dream, but that what she wanted. It was amazing, to see her smile when she said "It's been three years since then and now I believe that's possible. I can really be happy every day!"
First Year Struggles
As with any small business, MK's first year was a struggle, not only financially but also mentally. MK shares with us some of the things that helped her through this difficult time:
Starting from the why: Self-reflection is one of the hardest things to do. MK needed to understand her motivations; her why for doing this, her strengths and her weaknesses. Although some of these questions seem easy, there is a lot of resistance around them. Take the time to think about your own motivations – your WHY.
Getting Stuck by my previous role & caps: Although MK never regretted leaving her job, she often felt scared she was in the wrong place. She had a lot of self-doubt because she was not 100% confident in her new role. From being a military officer for 15 years, she kept on beating herself up and felt uncomfortable saying that she was now a financial advisor. She felt afraid that someone would catch her out for being a fraud, although she was legitimate and registered.
Focusing on the wrong things: During her first year, MK spent countless hours on the phone fighting with financial products, and trying to customize solutions, which turned out to be challenging. It did not only take a lot of her energy, but she was bringing that negative energy to her customers and ended up feeling rejected. She was also spending time on the wrong areas of her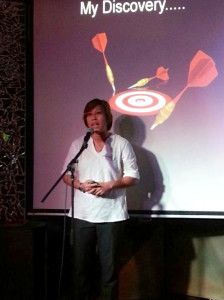 business.
Changing her communicated style: During her time in the Army, MK shared that she never had to sell herself. Her ranks had been the determining factor as to whom she could and could not speak to. She never had to build relationships, because she was the officer and whenever she said anything, her staff would listen.
MK says: "When I spoke, I gave instructions followed by clarification; 'Any questions? Are you clear?' and I'd expect a 'Yes/No Mdm' response." This was challenging, as I was entering in a relationship business.
Entrepreneurship can be a lonely journey: Switching from the corporate world, a lot of friends didn't understand what MK was going through. It was very lonely at times. She started to join several networks including Athena Network, go to networking events, until she built a network to support herself.
$$$ Running Out: In Hokkein "有做没做等十号" which means "you do- you don't do, you still wait till the 10th (for pay day)". When MK started to realize that her bank account was going down because she was not bringing in the money. This got her really stressed out and she realised she had to find more clients.
Business is Hard Work: There is no such thing as an overnight success. What you need to do is work really hard, especially in the beginning. You might be working every day, but it's about realizing that I am giving something life.
How to Get Your First Customer
Get to know your customer: like really get to know them, come with no expectation. If they are open to share, start at blank zero. Ask questions: What do they do? How do they feel? Ask the why questions. Ask about what's important to everyone's life: kids, family… Also provide a safe where they feel safe and where everything is possible.
Get a coach or mentor:  At the beginning, MK's mentor did 50% of the work and she had to close the deal. Her 3rd client comfort zone was outside. She had to present not only to my friends, but in front of my mentor. "Although being judged is always there, pressure was amounting to high heaven. It's a step. I had to overcome the hurdle. If I don't do this, I won't have freedom and I needed to gain my confidence." says MK.
Be aware of your self belief: I lacked confidence to deliver – "I felt judged all the time, but it was just me internalizing myself because I didn't feel confident I could do it. I couldn't do presenting at all." Self-beliefs manifest outwardly, so guard against them!
Practice: Get clear & grounded on what you want to create and always reference back to your vision. Don't be fearful that you won't close the deal. You need to say what you want to create. Go through your personal contacts and meet new people.
Build long term relationships: It's about building lifelong relationships, as they are the relationships that will enhance your business and personal life.
Ask for referrals:  If you offer a unique service proposition, you can ask for referrals. Happy customers will be happy to provide them.
Have any of you had a career transition or are in the process of going through one? How did you feel and how did/are you overcoming it?