And 5 Tips For Creating a Kick-Ass Email Marketing Subscriber List
During my exchange year in Vancouver, the only job I could get was a fundraising job on campus where I would spend 20 hours/week cold calling alumni to donate money to the to help current students on financial aid. Being  on financial aid myself, was really curious how it was done.
I quickly was able to identify a couple of things:
Cold Calling was Hard!  And not only that.. it barely worked…. we didnt raise nearly as much as we could with my fundraising events in high schools. So I did a bit of online research and found

Are you surprised by these statistics: It is a
tweetable!
How often have you bought something from a stranger on the street or from a telemarketer who calls you up?
I have never done that, and obviously according to these statistics, probably, neither have you!
You might be wondering what this got to do with building an email list?
People tend to buy when they trust, know and like a brand. Think Apple, Coca Cola, Starbucks. So small business owners who don't have the budgets to do what those big brands do,  can create content marketing that will help you build a relationship with your readers.
Imagine this: You are in touch weekly, giving a lot of value… so, when it comes time to sell, it will be easy because they already know you, you have a track record so they trust you and if they keep on reading, then obviously they like you.
Relationship marketing is the best way to get your potential prospects to buy from you.
Relationship Marketing on a Budget: List Building
When I started my business, I had a lot of resistance towards building a list. As I didn't want to seem too pushy or too sales-y.
At first I didn't think it was necessary, but then it made sense: list building and email marketing is the cheapest, most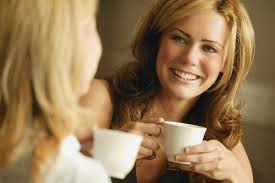 effective way to build a relationship. I would be in my prospects email box every week.
Email is personal. It's  friendly and an easy way to build trust.
Email is direct. You don't have to worry about the message being lost in translation or worse yet never getting to your prospect.
Today my email newsletter is strong and continues to grow – so thank you for your support and for sharing my newsletter each week – (You Rock!)
In case you are wondering why you need an email newsletter subscriber list I am going to share 5 reasons why. I'm also going to tell you the best way to build an email marketing newsletter subscriber list.
If you haven't tapped into the power of a good email list, you're losing a ton of opportunities. By they, while we're talking about it, are you signed up for my newsletter? Just drop your email in this form below (it's easy and free):
1. Email Marketing Beats Social Media Marketing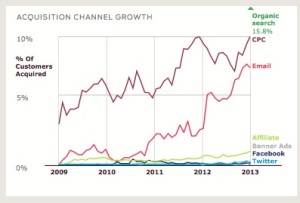 When I learned this fact, I was speechless. How is that possible? But it's true. According a recent study by Custora they found that customer acquisition from email quadruple and if you can see compared to other social media are almost 500 times more.
Social Media is important to keep reminding your prospecting but it cant be your only focus. Already you can see that your facebook does not appear to your followers feed, same thing with twitter, you can definitely imagine, sales will be impacted by lack of visibility.
2. Email Marketing = Relationships
Again, I wanted to emphasise: People buy from people they know and trust and an email newsletter provides the ideal forum for you to build a relationship of trust with your subscribers. By ensuring that your newsletter delivers great content and that you follow the best email marketing practices, you can connect with your audience and build a profitable strategy.
3. Email Marketing Boosts Social Media
Email marketing newsletters can help boost your social media following and engagement. All the platforms, such as your newsletter, Facebook, Google+ and Twitter work together to grow individually and collectively boost your sales. Email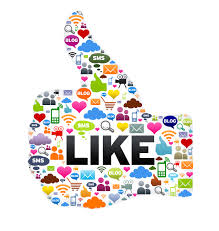 newsletters have been proven time and again to be highly effective in building online communities.
Salesforce recently revealed some mind-blowing stats about email marketing. They said that "Emails that include social sharing buttons have a 158% higher click-through rate."
Check out the rest of their findings here
4. Email Marketing Boosts Website Traffic
No matter how good your site is, traffic is not just going to go there. However, your well-targeted email newsletter can help to direct traffic to your site, with "gentle" encouragement and incentives, in the form of a strong call to action.
5. Email Marketing Needn't Be a Big Chore
Most people who don't do email marketing avoid it because they think it's a major chore. They think they have to come up with new and insightful content on a regular basis and remember to send it out at the same time every week or month, and, and, and…
But it doesn't have to be all that complicated.
Email Marketing Made Easy
The key to simplicity in email marketing is to select a simple, single goal for your newsletter. That way, it's easier to stay on schedule and complete the task with as little fuss as possible.
From looking through my email marketing newsletter statistics, I have noticed that the first link on my emails generally receive the most clicks.
Remember that many people are lazy readers. While they enjoy hearing from you, it's best to keep the emails short and stick to a single topic with no more than 3 links per email.
How to Build Your Subscriber List
If you've had your site for years and you don't have a subscriber list – what are you waiting for? It's never too early – or too late – to get going with email marketing.Here's how to build a kick-ass subscriber list that will get you off to a good start:
1. Get a good email marketing service, such as Aweber
2. Create an attractive subscriber form and place a subscriber box on your website. Tell them on the form how often t hey should expect an email from you (so they know you won't spam them) and stick to that.
3. Offer an incentive for readers to subscribe to your newsletter – a free eBook, audio or video recording that offers great value will reward them for signing up.
4. Place a link to your email marketing subscription form on your email signature.
5. Incentivise your social media contacts to sign up for the newsletter.
Email Marketing Take-Away
Email marketing works, because it is casual, friendly and personal and it makes connecting with people and building trust, easy. At the same time it is direct – people want to connect with you before they connect with your company.
Do you use email marketing as a formal strategy, or are you so-so about it?