The first time I saw a horse, I must have been about 4 years old. My cousin and I had accompanied my grandfather on a walk down to the local school field where a herd of horses were grazing. He asked if we wanted to ride. He'd always told us stories of his horse riding days before cars came along and thought that it would be good for us to learn to ride. The moment I saw a horse up close, I was so intimidated by its sheer size. I started crying and ran away every time one came near me. I was so afraid of them. A while later, my grandfather tried to take me on a horse ride at the town fair, but my reaction was pretty much the same. Afterwards, I felt disappointed in myself and regretted having missed the opportunity.
As time went on, I'd forgotten all about this until a few years ago, when my grandfather was diagnosed with cancer. Naturally this came as a shock and his battle with cancer was a very difficult experience for him, and everyone in our family. Seeing him go through all of this made me reminisce about all the wonderful times I'd spent with my grandfather and the important life lessons he'd taught me. There was just one thing I still regretted, and that was not having the nerve to ride the horse.
Deciding to Overcome Fear
The first step to overcoming fear is acknowledging it and then making the decision to move beyond it. While coming to terms with the news about my grandfather, I decided that if he could find the courage to fight cancer, then sure I could do something so simple as to go horse riding. At the time, a friend of mine was leaving South Africa to move to New Zealand. We were looking for something fun to do together for her farewell. Since she had always wanted to ride a horse, we decided to gather our gang of friends together and arrange a group horse riding excursion in a small country town, just an hour drive out of the city.
With the Magaliesberg Mountain as the backdrop and the luscious greenery, the setting was breathtaking. We arrived at our destination filled with both excitement and anxiety. Finally the big moment arrived. I mounted my four-legged companion. Yet again, I was overcome with a sense of panic. It took a lot to hold myself together, but I was determined to do it. After our guide explained the basics of controlling the horse, it took me a few long moments to figure out how to navigate my horse who was moving about at her will, concerned only about its nice green meal that lined the ground before us. Slowly, my fear dissipated and I started to get the hang of it.
We set off on our riding trail through the beautiful open fields alongside the mountain and then through the river canopy. My poise and horse communication skills strengthened along the way. The experienced also forced me to move beyond my initial intimidation and anxiety, and to gather together my confidence in order to firmly guide the horse to do what I wanted it to do. As free and willful spirits, horses can very easily take control if not sternly communicated with.
Riding the trail turned out to be a breeze. It felt amazing to lightly gallop through fields of wild flowers. At the end of the exquisite scenic trail, I felt so happy at having overcome my fear and enjoyed doing something new. I was also grateful to feel myself grow through this enriching experience.
The Benefits of Facing Fear
Something is always gained from bravely tackling situations that scare us. When I got home, I called my grandfather to chat and let him know about the experience. Although we didn't go horse riding together, it made me feel closer to him. That day, I learned just how important it is to face fears and to go ahead and do something anyway, even if it scares the hell out of you. I came to see how easy it can be to regain self-belief when I just trust myself and reach within and draw on my inner strength. Going forward, I also noticed a change in myself. I suddenly found the courage to stand up to my unfair and unpleasant manager and my working life improved tremendously. I also began to do more new and exciting things that I'd previously been too afraid to try. Soon, my life was transforming, I was more confident and no longer afraid to take big leaps.
What are your fears? How are they holding you back? Take one step to overcome that fear today. Look your fear in the eye, and take a step forward anyway. You'll be surprised at the inner strength that comes to the surface when you do.
By Jodi Sky Rogers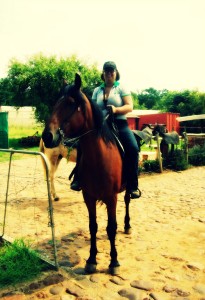 Short Bio: Jodi is a Soulpreneur & Writer based in Johannesburg, South Africa who helps women find inspiration, peace and healing. She is an eco-spirituality teacher. She is a flower charmed and nature loving soul who loves quiet moments in lotus position, dreamy sky-scapes and the magic of the Universe.
Email: jodiskyrogers@gmail.com
Website: http://jodiskyrogers.com
Twitter: @JodiSkyRogers
Facebook: https://www.facebook.com/pages/Sky-Fairy-Whispers
To discover and master the art of living your purpose is crucial, because without it, life becomes meaningless. Sign Up to our community and get free access to our training coming out in three weeks.
We'd love to hear about your purpose in the comments; what are your dreams and how do you make your life meaningful?