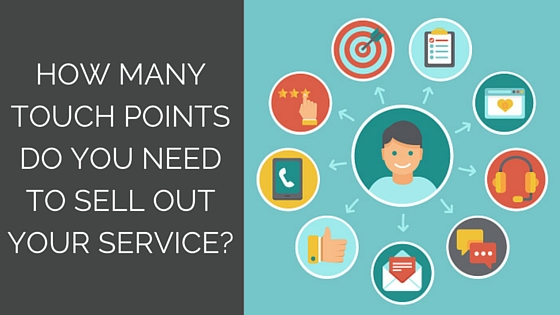 Have you ever wondered how many touch points you need with your prospects before you actually sell out your service?
The research suggests a variety of responses, anywhere from 3, 5, 8 or even 12!
The actual right answer is, "it depends."  
Think about it, not every business has the same sales cycle. Selling a $30 million dollar contract needs a different sales process than selling a $2000 service.
Back in my oil and gas corporate days, our pre-marketing lead cycle was two years and we were constantly nurturing our clients by spending a lot of money on them through Client Engagement Events.
In cases of an impulse buy, you may only need one contact to make it happen. But this happens in your favorite store, something you love, or the price is so low that it doesn't matter to the buyer.
That's why alot of online marketers use the same psychology when building tripwire offers (offers under $100 dollars because the price is so low).
The schedule and how to maximize the value of each contact will impact how much time, effort and cost it is to acquire a client.
How many contacts (or "touches") do you need?
Marketing expert Dr. Jeffrey Lant, talks about the Rule of Seven – it takes at least 7 touch points before you enter the buyer's consciousness.
That means over the touch points a client needs to have enough information about their own situation AND your offering before they can be considered a sales ready lead. The probability of selling to a new prospect is 5% – 20%.
A lot of times, as business owners, we have unrealistic revenue expectations without truly understanding our sales and marketing processes and their ability to deliver.
Sometimes the marketing leads are not targeted enough. Building your list is important but if you have a list of 10,000 people who don't want to buy from you…what have you built?.
If you remember in Episode 2 of the Sales Success Show, Courtney Johnston shared how she converts 15% of all her prospects because her marketing is super targeted.
Your touch points depend on these factors: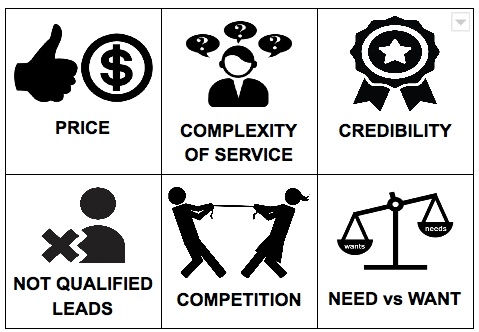 Of course, if someone comes to you through a referral and it's a really hot lead, this accelerates the sales process.
Most Prospects Never Receive Enough Touches
Nearly 90% of business owners give up after the 3-5 touch points.
That's why it's crucial to have a well-orchestrated sales plan which uses a mix of all types of contacts (touches).
Download the 7 Key Emails Your Need to Double Your Sales
Why People Hate Reaching Out
I know first hand how much people hate reaching out to their prospects. I've coached hundreds of entrepreneurs who had trouble around this. And I understand – you  don't want to seem annoying. You don't want to be a burden or pushy.
The reality is that your business is about solving a problem for your prospect. You give your clients value. They need you to reach out, to offer, to remind them. So if you are objecting to setting up my suggested  7 touch points, ask yourself "What is coming up for me? What's holding me back? What are some of my money beliefs that are getting in the way of offering my value?" It's ok to spend some time journaling or talking this through with a friend or colleague before you proceed.
Now, the customer experience starts long before someone purchases from you – it's at every single interaction.
And the reality is that not everyone opens every email, not everyone reads every email, not everyone takes action for every email, and not every lead is the right fit.
It's crucial for the work that you do and for your customers who you are here to serve, to intentionally follow up. You need to give them enough opportunity to evaluate if you are the right fit instead of going somewhere else or spending months or years frustrated they couldn't find a solution.
Often times, prospects leads are falling out of your funnel because you are not investing the time to build the relationship.
Are you wondering just HOW to do that? I've got you covered.
Download the 7 Key Emails Your Need to Double Your Sales and start building out your relationship process with your prospects. (Oh and feel free to send this blog to anyone who is struggling with setting up clear, effective relationships with their prospects!)
I would love to hear from you. Leave a comment below and let me know how you're building relationships with your prospects.
How many touch points does it take for you to make a sale? I'm cheering for you!
-Yasmine